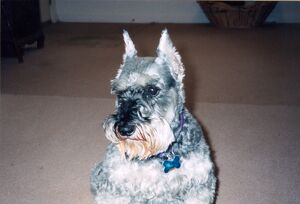 Holly Dog was my pet dog and she was real. Holly Dog is a Miniature Schnauzer and in the Lost Worlds of Buckstevenson universe my guardian. Holly Dog is very wise and is just as powerful as Bucky. Holly and Bucky may not have a great relationship but Holly Dog will protect Bucky at all costs. Holly Dog has fought demons and even solo, but Holly is just a loyal friend to Bucky. Bucky will always consider Holly Dog as his sidekick, may she rest in peace.
Ad blocker interference detected!
Wikia is a free-to-use site that makes money from advertising. We have a modified experience for viewers using ad blockers

Wikia is not accessible if you've made further modifications. Remove the custom ad blocker rule(s) and the page will load as expected.